Archaeology 101
28/10/2015 | Ken Parker (Citizan volunteer)
Several months ago, Andy Sherman & Megan Clement gave a presentation to the ERAS Field Studies Group, to explain the latest major public archaeology project, CITiZAN (Coastal and Intertidal Zone Archaeology Network). Andy and Megan, from the northern office of the project at York, explained that the purpose of the project is to record sites at risk of erosion, within tidal areas nationally. They are particularly interested in the Yorkshire & Lincolnshire coastline, as well as the Humber estuary. The project is designed to enable the general public to check out and help with the recording of anything they come across, which they think might be of archaeological interest.
As a result of the initial presentation, Training for beginners wanting to take part in the CITiZAN project was organized for ERAS, at a members farm at Arram. There were 10 participants and observers. The training was really enjoyable as well as being informative, the main topics covered being Health and Safety, Stratigraphy, Photography, Plan Drawing and the taking and recording of Site Levels.
Health and Safety covered what you might expect when visiting a tidal muddy foreshore or beach site (including the bases of cliffs) as well as bio-hazards, such as Leptospirosis & Weill's Disease etc.
Stratigraphy was new to us and after a brief explanation, we were given three examples of layers which might be encountered on a typical excavation. We then were asked to attempt to produce stratigraphy diagrams. Needless to say we need more practice!!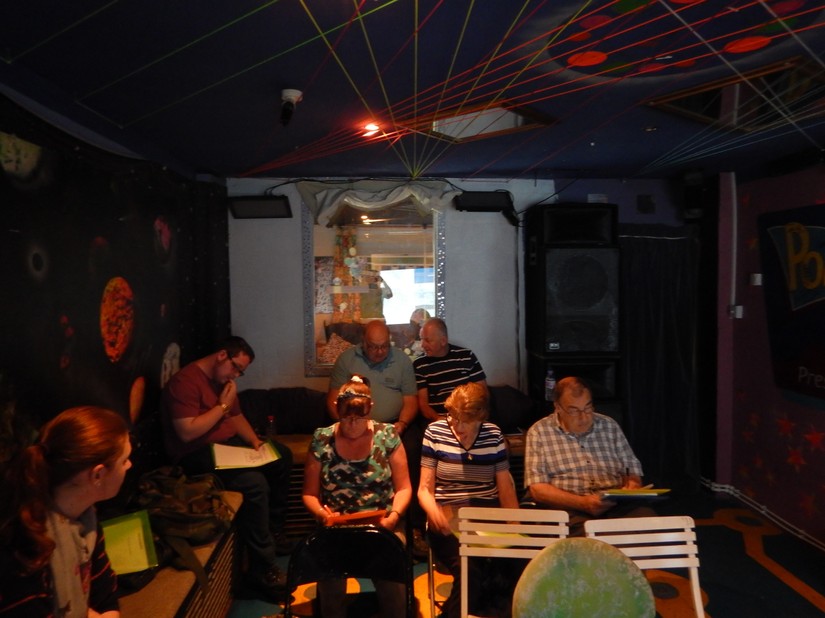 The next topic was Photography, where we were given handy hints about how to record any archaeology we might have discovered - no bags or feet in the photographs, ensure there is suitable scale in the photo, keep written records of what you have taken, show which direction is north, ALWAYS take more than one photograph etc.
The Planning Theory was to make sure that you have all the relevant equipment to produce an accurate record, in plan form, of what could be seen on the ground. This included measurement equipment, paper, or drawing film, scale rule, a north arrow, a scheme for recording drawing numbers, equipment for setting up a base line from which to take measurements, tapes and survey pins etc.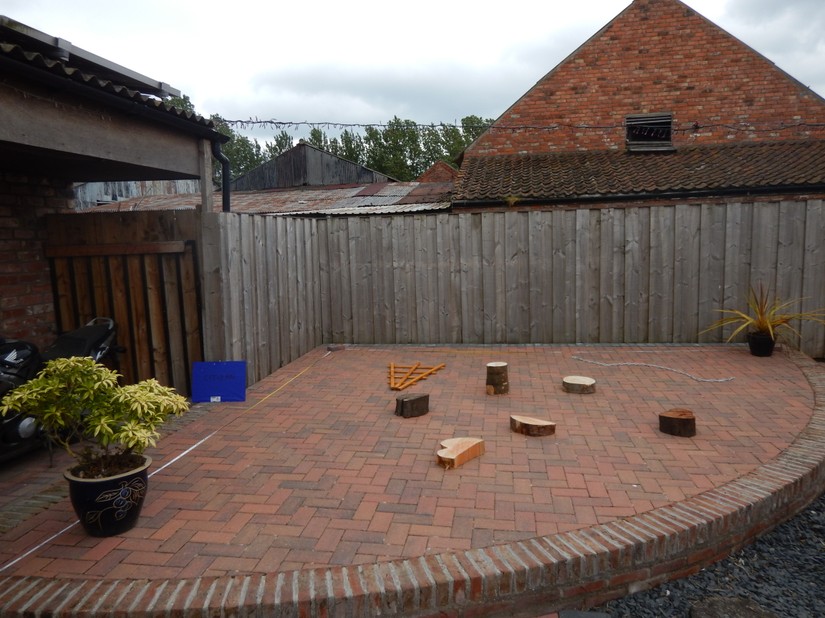 © CITiZAN
The Planning Practical was really useful and actually quite entertaining! A site containing a fish trap, anchor chain, various tree stumps etc was simulated on a garden patio. We were tasked to produce an accurate site drawing using a baseline and measuring tape. Needless to say, this produced a few laughs but, eventually our drawing actually looked like what was there in front of us on the patio!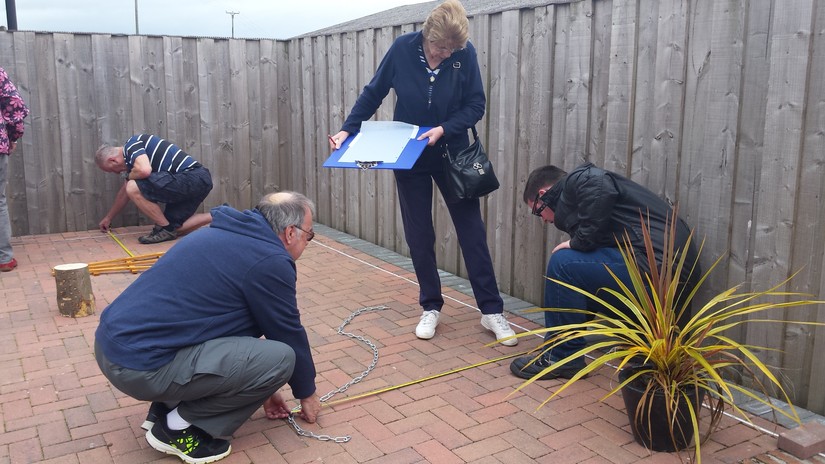 © CITiZAN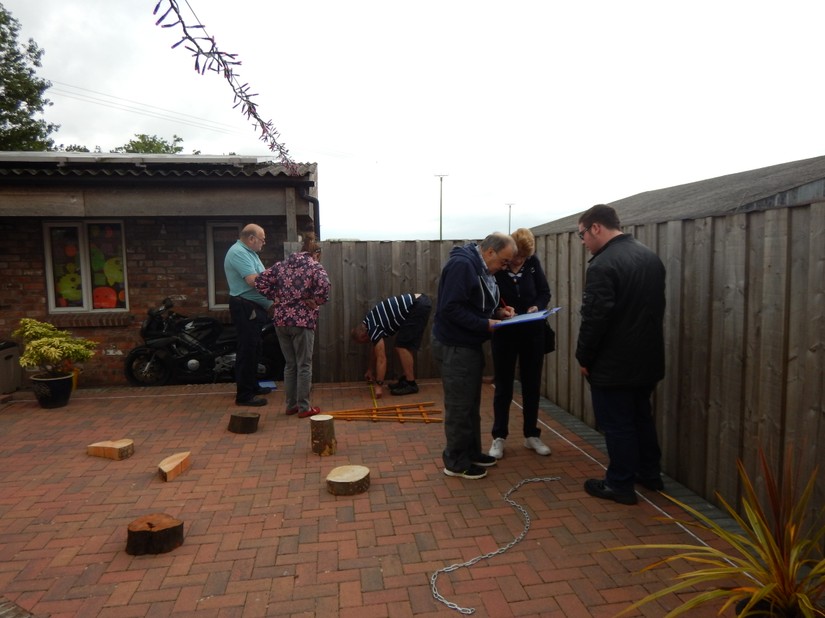 © CITiZAN
The Levelling part of the training involved the practical use of a dumpy level, tripod, staff, notebook and pencil. We were also introduced to Temporary bench marks (TBMs,), back sight readings and foresight readings, as well as various drawing conventions. The idea is that anybody taking part in the project, wherever they are in the country, will use the same system of recording.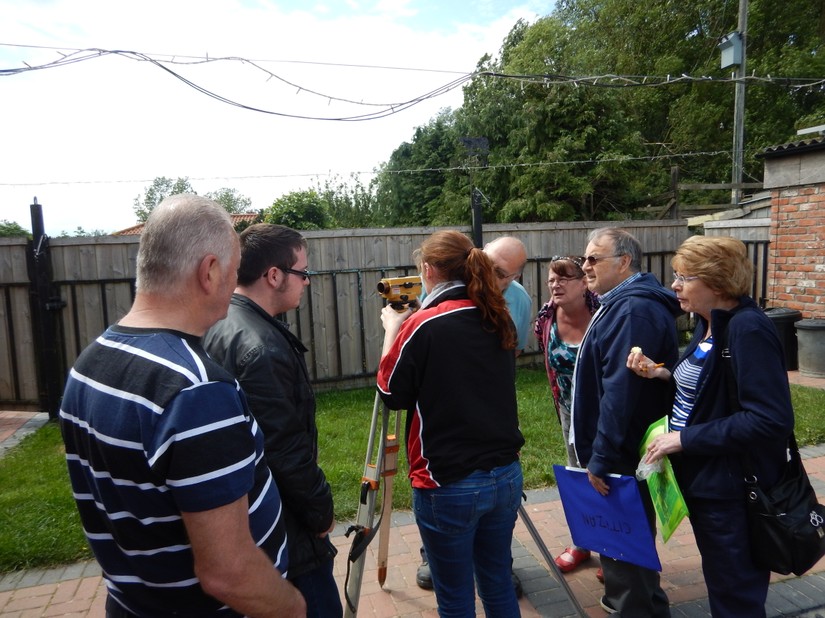 © CITiZAN
After the coursework at the Arram training day ended, there was a general discussion about it and we all agreed that once the App is up and running, we ought to visit somewhere like Spurn Point to have another training session using the App. Then we'll be confident and ready to Go! In conclusion, a really good day was had by all participants.
This blog was kindly written by a CITiZAN volunteer and a member of the East Riding Archaeological Society. It has been transcribed by the CITiZAN Staff with his permission and we would like to thank him for allowing us to use it.