CITiZAN 2015-2018: a review
01/12/2018 | Stephanie Ostrich
CITiZAN have completed a final report summarising the extensive work carried out in 2015-18, supported by a generous grant of £1.4 million from the Heritage Lottery Fund, with match funding from the Crown Estate and National Trust and additional support from Historic England.
The work of CITiZAN would not be possible without the support of our volunteers, sponsors and project partners. We would like to thank the CITiZAN team for their work which is summarised in this report: Gustav Milne, Stephanie Ostrich, Lara Band, Alex Bellisario, Megan Clement, Oliver Hutchinson, Therese Kearns, Nick Mason, Andy Sherman, and Lauren Tidbury. We would also like to thank external evaluator Esther Gill and all of our volunteers for their invaluable contributions.
CITiZAN is hosted by MOLA (Museum of London Archaeology); our regional teams are based with MOLA in London and with our partners the Council for British Archaeology in York and Nautical Archaeology Society in Fort Cumberland, Portsmouth.
Summary
Much of our island's history is simply being washed away. Significant archaeological sites along England's sinuous coast and on the foreshores of our tidal estuaries are continually eroded by winds, waves and winter storms. The vulnerable sites exposed on our coasts and foreshores comprise the largest assemblage of directly threatened archaeological features in the country, for which there is limited statutory protection. Until 2015 with the launch of CITiZAN, there had been no systematic standardised system in place to record these vulnerable sites in detail or to regularly monitor their fate over the longer term.
CITiZAN, the Coastal and Intertidal Zone Archaeological Network, is one of the largest 'citizen science' archaeology projects in the UK. Hosted by MOLA and delivered together with our project partners the Council for British Archaeology and with Nautical Archaeology Society we were supported by a grant from the Heritage Lottery Fund in 2015–18, with match funding from the National Trust and The Crown Estate. We have set up strong collaborative national networks of local communities and professionals and implemented a national standard for recording England's threatened coastal heritage in 2015–18. CITiZAN have developed a new coastal archaeology smartphone app (free to download on Android and Apple iOS devices) which allows not only trained CITiZAN volunteers but also any coastal user with a keen eye and a smart phone to record fragile coastal and intertidal heritage and monitor changes brought about by erosion and storm damage. CITiZAN 2015–18 has been extremely successful and made a national and international impact in coastal and intertidal archaeology, public archaeology and climate change studies.
Click the icon below for a PDF copy of our final report: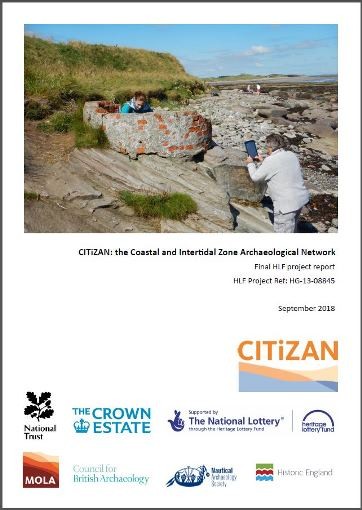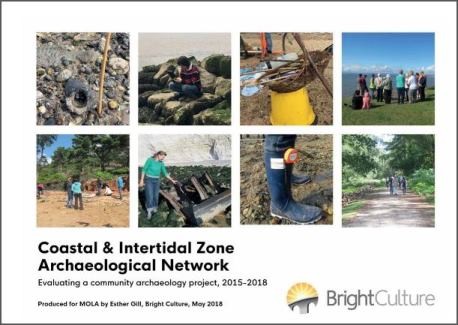 © E Gill