CITiZAN improves your tool
31/10/2020 | Oliver Hutchinson
After four years and thousands of new features, updates and monitoring reports via the CITiZAN app it's time for an upgrade. We've listened to your feedback and made changes that make using the app easier and quicker. We've removed a lot of clutter and in doing so hope that our app becomes more accessible to a wider audience. The value of our project is firmly rooted in the data that our volunteers so kindly gather between each tide, and the more people that feel comfortable to make contributions to our data set the better. We've also improved the way that you can access the data you gather, creating new ways to visualise the changes to our coastline from prehistory to the present.
What's changed in the app?
Recording and updating features using the app is now a much quicker process leaving you more time to explore the foreshore. We only ask for five key pieces of data; a name for your archaeological feature, a GPS location (automatically derived from your phone), a description of what you can see, up to four images plus captions and finally any extra comments you have. That's it. The information you provide in these five fields is enough for us to create a new record on our database, to help us to map the changing position of our coastline and to monitor the impacts of coastal erosion on our vanishing coastal archaeological resource. Check out this short video to see how easy it is to add a feature.
Critically, you can now view images that other users have added to features in our database. This means it's easier to locate features when you're monitoring them and providing us with an update on their status. You'll be able to see immediately how a feature has changed, if it's more exposed, less exposed or disappeared altogether. It also means you have a visual guide when taking your own photos allowing those who cannot easily visit a site to see the changes that have taken place.
Surely there's more to it?
A little yes, but that's up to us. Once we receive your data it undergoes a process of moderation by a member of the CITiZAN team. During moderation we'll read through your description, compare it to the images, add a monument type to your feature (used to categorise the various types of archaeological features we find) such as 'pillbox', and assign an archaeological period if we can identify any relevant indicators. We'll also try to add a height above or below sea level, crucial to our understanding of how our coastline has changed from prehistory to the present. Once we've completed these checks, we'll make it public and add your contribution to our database and online map.
New ways to visualise our data
The CITiZAN coastal map provides access to over 17,000 archaeological features held in our database. Now you can search them using one of more key terms; monument type, archaeological period and height above or below sea level. This means it's now possible to view the former Roman presence around our coast, for example the image below shows all the Roman features in our database around the Blackwater estuary.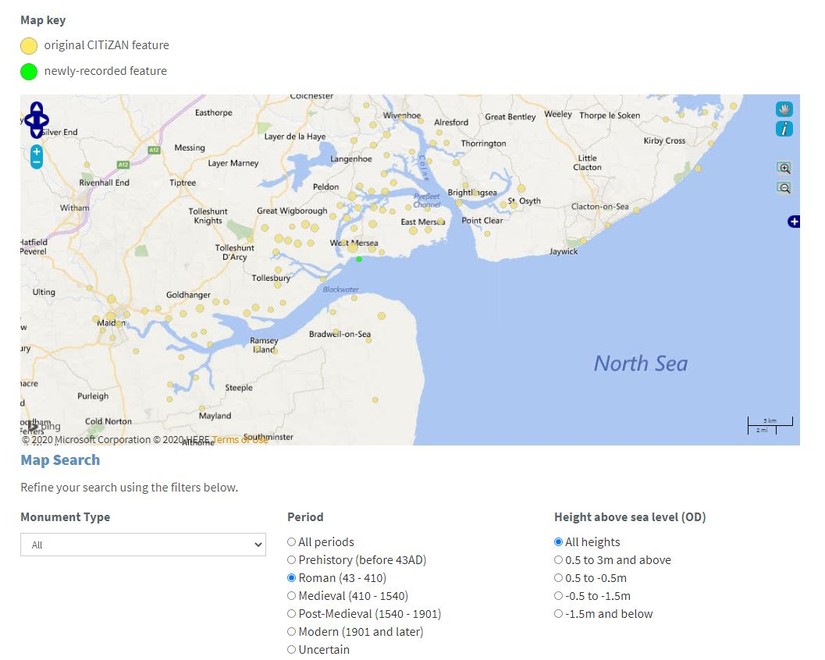 It's possible to go further and identify all the medieval fish traps in the area as well, some of which we have levels (height above or below sea level) for meaning that we can start to suggest where submerged coastlines might be found. You can check out the improved map on our website https://citizan.org.uk/interactive-coastal-map
It's important to state that this search functionality is in its infancy, the more data we add relating to monument types and levels, the more powerful this search functionality will become. Right now, many combined search terms will return few results, but we're adding data each day to rectify this. We think these new search terms reflect the aims of our project and we hope they will be of value to more and more researchers as we refine and develop our data set, if you'd like to help us get there quicker from the comfort of your own home just email us at citizan@mola.org.uk.
Download!
If you're new to our app be sure to register via https://citizan.org.uk/register/ and then download the app to get started. The how-to button tells you all you need to know to make your first contribution to the CITiZAN data set. Happy apping!