Join us
CITiZAN cannot hope to monitor the 6,500+ miles of English coastline on our own. But we can support communities with training in how to recognise and record features in your area, how to use our free smartphone app and also through our blog.
From 2019 onwards we will also be focussing our efforts on six new Discovery Programmes: East Kent Coast, Mersea Island, Liverpool Bay, Humberside, South Devon Rivers and Solent Harbours. These are currently being established so keep an eye out for more deatils here.
As the Coastal and Intertidal Zone Archaeological Network, we support already active local archaeological groups as well as our newly trained volunteers so we can all work together towards creating a richer picture of England's intertidal zone, and we want to have fun doing it!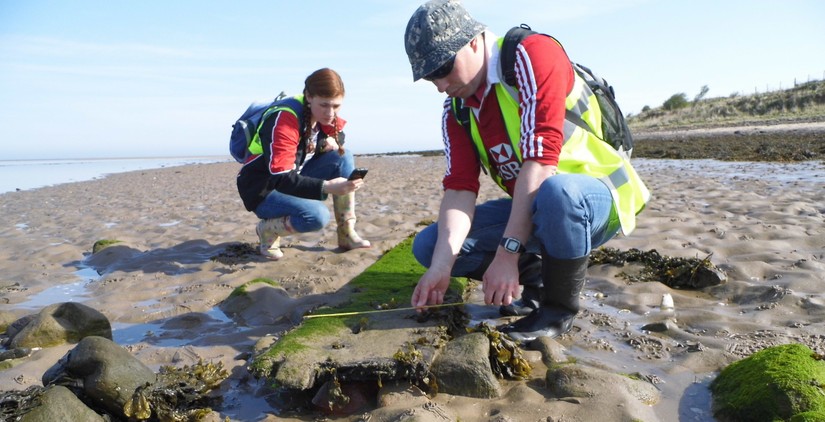 So how do I get involved?
Step 1: You can register as an online CITiZAN surveyor.
Step 2: Once you are a full online CITiZAN surveyor (a short three-step process) you can record features and carry out long term monitoring by using our interactive map or our free smartphone app. Our app is available via Play Store for Android devices or via the App Store for Apple devices running iOS6 and above.
Step 3: If you want to get your hands dirty and explore the foreshore, come along to a CITiZAN training session or guided walk. You can find out about these through our newsletter or on our events page. All of our events are free, but places must be booked in advance.
See our resources page for more information and guidance on recording features. And when you're out on the foreshore remember to stay safe!
Your involvement with CITiZAN can be as much or as little as you choose:
Attend lectures and workshops on England's coastal heritage
Join us for guided walks to learn more about local coastal history
Carry out off-site archival research
Participate in on-site recording training sessions
Adopt a coastal site and carry out long-term monitoring
---
If you'd like to find out more about CITiZAN, you can sign up to our newsletter.
You can also try your hand at intertidal archaeology at one of our events!
If you'd like to add to the CITiZAN Interactive Coastal Map and provide up-to-date site monitoring information, register to become a fully-fledged CITiZAN surveyor!
---
Download a PDF guide on how to register as an online CITiZAN surveyor: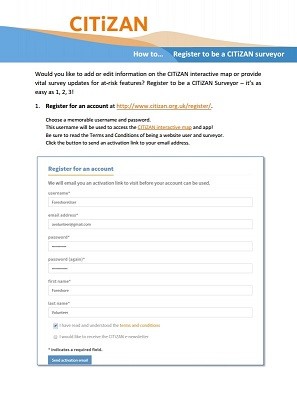 ---
CITiZAN Smart App
Download the CITiZAN smart app for Apple or Android devices and get involved:
Reading this on your phone? Click the button below to get the app!